Idaho murders
Who is Bryan Kohberger? The criminology graduate charged with the Idaho college murders
Speculation and rumour have swirled in the months following Bryan Kohberger's arrest, as conspiracists and armchair detectives paint all manner of pictures of the accused killer. But who really is the former PhD student? Sheila Flynn reports
Thursday 26 October 2023 16:26 EDT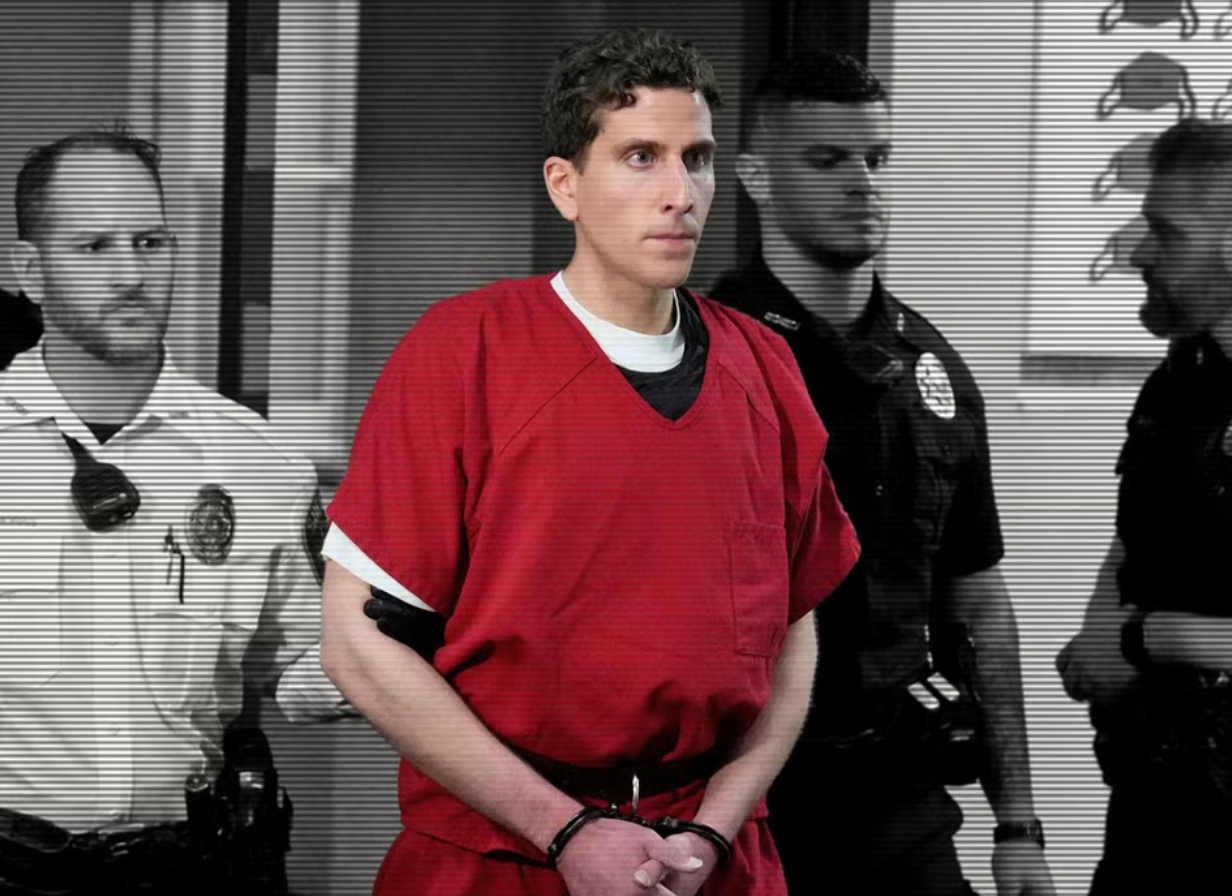 Bryan Kohberger became a household name across America when police swooped on his parents' home in December and arrested him for the brutal murdersof four University of Idaho students.
Mr Kohberger, then a PhD criminology student at Washington State University, was accused of stabbing to death Kaylee Goncalves, Madison Mogen, Xana Kernodle and Ethan Chapin in an off-campus student rental home in Moscow, Idaho, on 13 November.
The victims' loved ones and those following developments in the quadruple murder case went from weeks of near-silence from law enforcement to the bombshell news of the accused killer's arrest six weeks later.
Since then, people from Mr Kohberger's past – though shocked – have built a picture of a bullied loner who overcame addiction. Meanwhile, fellow students from his time just over the Idaho border into Washington describe a criminology zealot who "creeped people out".
With the 28-year-old now facing the death penalty in the case, The Independent asks: Who really is Bryan Kohberger?
Bullying, addiction and weight loss
Four years before the vicious murders of four University of Idaho students, the man now headed to trial for allegedly taking their lives was lauded for helping to save another.
Mr Kohberger had been working as a part-time security officer for Pleasant Valley School District, where his mother was also employed when a hall monitor – a grandmother – began having trouble breathing and losing consciousness. Security guard Luis Fuentes, according to the Pocono Record, dispatched Mr Kohberger to retrieve the school AED as fellow staffers and emergency personnel attended to their coworker.
Disaster was averted – but the incident still made the local paper in small-town Pennsylvania, where Mr Kohberger grew up with his parents, Michael and Maryann, and two sisters, Amanda and Melissa. It would mark one of the few times that Bryan Kohberger's name would surface online until his arrest.
Most of Mr Kohberger's college courses have focused on criminality and the mind, though careers in education with an emphasis on psychology run in the family.
His mother worked as a paraprofessional at Pleasant Valley School District and was beloved by students, by all accounts – the type of woman who tells a former pupil that they can always call her after the death of a parent. Her two daughters, both older than Mr Kohberger, both studied psychology at East Coast schools before finding work in the field. Melissa is a therapist in New Jersey, while Amanda is a counsellor in Pennsylvania.
The Kohbergers lived for years in Effort, an unincorporated community in Monroe County with a population of under 2,500 just minutes from Pleasant Valley School District, where the children also graduated from high school. Michael Kohberger was a maintenance worker and the family seemed unremarkable in the quiet community 90 miles north of Philadelphia; Bryan used to mow the neighbours' lawn.
Mr Kohberger was overweight and bullied in high school – then lost 100 pounds in his senior year, and more than just his appearance changed, according to friends.
"He was rail thin," Casey Arntz, who hung around in the same group as Mr Kohberger, told 48 Hours. "It was after that weight loss that a lot of people noticed a huge switch."
She says Mr Kohberger bullied her brother, a member of the same social circle, at times even putting her sibling in chokeholds: "When Bryan would get kinda angry with him, he would gaslight him and get physically aggressive," she said.
Her brother, Thomas, told The Daily Beast that Mr Kohberger liked to point out his "flaws and insecurities" and would do so "all the time."
"He would go after my intelligence," the 26-year-old said. "He would basically insinuate that I'm kind of slow-witted and that I'm forgetful and [that] I lack the intelligence to be his friend."
That aggressive streak was described by other friends, as well. Nick McLoughlin, 26, attended classes at both Pleasant Valley High School and Monroe Count's vocational school with Mr Kohberger, telling The Daily Beast the murder suspect had been interested in becoming a police officer and took criminal justice courses.
His interest in law enforcement was apparent, one former teacher told the outlet, describing Mr Kohberger as "passionate about criminal justice."
"He was just a regular 12th grader, had a few friends, was a good student," she said. "I thought he would become a police officer or correctional officer ... He liked to watch movies about police, and ask me the next day if I'd seen it. It was more than a hobby for him, he was always asking questions."
In addition to criminology, Mr Kohberger had a new interest after the weight loss, Mr McLoughlin said: Boxing.
"He always wanted to fight somebody," he said. "He was bullying people. We started cutting him off from our friend group because he was 100 percent a different person."
Mr Kohberger's changing behaviour included drug abuse, another friend, Bree, told 48 Hours – claiming that he began using heroin. She said that "people were not his strong suit."
"You just saw him becoming more self-destructive," said Bree. "He really stayed secluded."
Overcoming addiction and interest in criminology
In a February interview with the Idaho Statesman, high school friends and acquaintances of Mr Kohberger addressed previous reports that he was bullied because of his weight.
They told the newspaper that Mr Kohberger found in marijuana a way to cope with the constant targeting that he suffered as a teenager before he escalated to heroin addiction.
"I feel he was looking for validation, and that's why he fell into that crowd," Ms Arntz told the Statesman. "And honestly, it's why he fell into the whole drug scene."
Ms Arntz recalled an instance in which Mr Kohberger asked her to drive him to pick up needles for his aunt because his car had broken down. In reality, Mr Kohberger was buying drugs from a dealer, Ms Arntz claimed.
"He literally used me to get it," she added. "I was freaking out and not happy I had heroin in my car and didn't even know."
Following high school, however, many believed Mr Kohberger seemed to be doing better. He told Ms Arntz that he went to rehab, according to the Daily Beast, and he earned an associate of arts degree in psychology from Northampton Community College in 2018.
"He was telling me that he wanted to get sober, that he was getting sober," Bree told 48 Hours, "And he wanted to let me know, 'I'm gonna do better. I'm gonna be better.'"
Ms Arntz last saw Mr Kohberger at a wedding in 2017, where she gave him a hug and told him, "You look so good. I'm so proud of you," she told 48 Hours.
Mr Kohberger continued his studies at DeSales University in Center Valley, Pennsylvania, where he graduated in 2020 with a bachelor's degree in psychology and a master's in criminal justice last year. Teachers and classmates have described him as bright, focused and nearly obsessive about criminology.
Michelle Bolger, an associate professor at DeSales, taught Mr Kohberger and described him as a "great writer" and "brilliant student."
"In my 10 years of teaching, I've only recommended two students to a PhD program and he was one of them," she told the Daily Mail. "He was one of my best students, ever. Everyone is in shock over this."
After Mr Kohberger's graduation from DeSales, he left Pennsylvania and crossed the country to pursue a PhD at Washington State University (WSU) in Pullman, Washington, just across the state border from the University of Idaho in Moscow. He was also a teaching assistant in WSU's department of criminal justice and criminology.
There, he "sort of creeped people out," fellow grad student B.K. Norton told The New York Times, describing a quiet, intense demeanour. She also alleged he made comments about the LGBTQ community that made some uncomfortable.
"He stared and didn't talk much, but when he did it was very intelligent and he needed everyone to know he was smart," Ms Norton said.
Another WSU grad student in the programme with Mr Kohberger, Benjamin Roberts, echoed her sentiments about the suspect's academic arrogance.
"He would describe things in the most complicated, perhaps academic way possible," Mr Roberts told 48 Hours, elaborating: "It was like he was trying to convince people that he knew what he was talking about."
Mr Kohberger lived in an unassuming Pullman apartment complex and, while studying and working as a TA, was also continuing to pursue his dream of working in law enforcement. The affidavit unsealed earlier this year by Idaho courts revealed that Mr Kohberger applied for an internship with the Pullman Police Department.
"Kohberger wrote in his essay he had an interest in assisting rural law enforcement agencies with how to better collect and analyze technological data in public safety operations," the affidavit states. The department did not respond to The Independent's request regarding whether Mr Kohberger ever got the internship.
He was committed, it seems, to thoroughly exploring the inner workings of the criminal mind, posting a survey to Reddit that "asked for participants to provide information to 'understand how emotions and psychological traits influence decision making when committing a crime,'" the affidavit continues.
Mr Kohberger seemed fastidious about his efforts to understand the inner workings of the criminal mind – and reportedly applied that same attitude to his diet.
A former aunt told the New York Post that Mr Kohberger's food regime was "very, very weird" and went "above and beyond being vegan." Relatives had to "buy new pots and pans because he would not eat from anything that had ever had meat cooked in them," she said, adding that he seemed "very OCD [obsessive-compulsive disorder]."
Allegations of sexism and disciplinary action at WSU
Around the time of the murders, Mr Kohberger was facing disciplinary action in his teaching assistant job at WSU.
The 29-year-old began working as a teaching assistant in the criminology department in August as part of his graduate program. But within a month he was already under investigation by the university because of "behavioural problems" and a "sexist attitude towards women", according to NewsNation.
Earlier this year, the outlet obtained a detailed timeline of his issues in the department, revealing that Mr Kohberger was warned multiple times about his behaviour and was brought into several meetings with professors due to their concerns.
His attitude towards women was cited as a key concern, with the criminal justice student allegedly being "rude to women", grading the women that he taught differently to the men, and having a "sexist attitude towards females he interacted with at the school".
In his brief four-month stint as a teaching assistant, Mr Kohberger also reportedly got into multiple altercations with one of the professors – Professor John Snyder.
The first altercation reportedly took place on 23 September and he was called in to meet the professor to discuss his behaviour on 3 October.
But his behaviour only escalated, with reports of him becoming increasingly "feisty", "belligerent" and getting into arguments with professors in the run-up to the murders.
On 21 October, Professor Snyder emailed Mr Kohberger telling him he had failed to meet the expectations he had outlined in their previous discussion.
On 2 November – 11 days before the murders – Mr Kohberger reportedly met with the professor to discuss an "improvement plan" for his behaviour.
In the aftermath of the slayings, the university continued to note his concerning behaviour.
Mr Kohberger attended a meeting with the professor about the improvement plan on 7 December – before getting into yet another altercation with him two days later.
The professor condemned his behaviour, writing to the accused killer that it was "apparent that you have not made progress regarding your professionalism".
On 19 December – just over one month on from the murders – Mr Kohberger was ultimately fired from his WSU teaching post, reported NewsNation.
Phil Weiler, the vice president at WSU, told The Independent back in February that the university could not discuss a student's records.
"Bryan Kohberger received an appointment as a teaching assistant at Washington State University (WSU) during the fall 2022 semester. It is typical for students to receive a teaching assistantship or similar appointment as part of their PhD program," he said in a statement.
"Mr Kohberger does not currently have a teaching assistantship and he is not currently enrolled at WSU.
"Information concerning a student's teaching assistantship is considered a student record. The federal Family Educational Rights and Privacy Act (FERPA) prevents universities from discussing student records. As a result, I am unable to comment on Mr Kohberger's experience as a teaching assistant."
Aftermath of the murders
Following the murders, classmates said Mr Kohberger continued attending classes – but "seemed more upbeat and willing to carry a conversation," Ms Norton told the Times.
In mid-December, Mr Kohberger then drove cross-country with his father in his white Hyundai Elantra, getting stopped twice in Indiana, before returning to his parents' home in Pennsylvania. He was arrested there on 30 December and extradited to Moscow to face charges.
His lawyers have claimed Mr Kohberger is innocent and wants to clear his name. His family released a statement expressing their condolences to the victims' families while urging a presumption of innocence on part of their son.
Many in Mr Kohberger's orbit expressed shock at his alleged involvement in the crime; others from his past were not so sure.
"He was mean-spirited," Thomas Arntz told the Daily Beast. "He was a bully. I never thought he would do something like that, but at the same time it doesn't really surprise me."
On Monday (22 May), Mr Kohberger refused to enter a plea in Latah County District Court, with his attorney saying that he was "standing silent" on the charges.
The unusual response prompted the judge to enter a "not guilty" plea on Mr Kohberger's behalf, setting the stage for a trial in which he could potentially face the death penalty.
The judge had set Mr Kohberger's trial date for 2 October 2023 following requests by Kohberger's attorney and the state.
But, in a shock move, Mr Kohberger waived his right to a speedy trial, causing the trial to be delayed indefinitely.
Now, he is fighting to have cameras removed from the courtroom – a request that prosecutors at least in part agree with.
A hearing about cameras in court will take place on 13 September.