A man claimed he found a brutally beaten woman on a Wisconsin sidewalk. He's now charged with her sexual assault
Madison Police say that 26-year-old Brandon Thompson posed as an innocent bystander after he allegedly carried out a disturbing sexual attack that left a young woman clinging to life. Andrea Blanco reports
Thursday 07 September 2023 13:56 EDT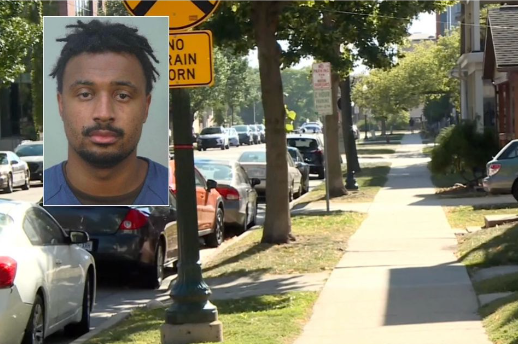 In the early morning hours of Sunday, a neighbour found the bloodied, naked body of a young woman lying on a sidewalk in downtown Madison, Wisconsin. A man towering over the victim told the neighbour he had "just found" her and had no idea what had happened to her.
The woman, a student at the University of Wisconsin campus nearby, had suffered a sexual assault and beating. But by the time first responders arrived at the scene, the man who had posed as an innocent bystander had already vanished.
Madison police have now accused that same man, identified as 26-year-old Brandon Thompson, of carrying out the horrible attack that left the woman fighting for her life. The woman remains in critical condition but is expected to recover from the life-threatening injuries she sustained.
Mr Thompson is now facing charges of first-degree sexual assault, first-degree reckless injury and strangulation. In a statement released shortly after his arrest, his attorneys noted that Mr Thompson, a Madison resident who comes from a military family, is innocent until proven guilty.
Police said that surveillance video provided by the community was key in placing Mr Thompson at the crime scene. Detectives are now awaiting results from DNA evidence that was sent to a state crime lab.
Here's everything we know about the case:
'She's covered in blood'
Madison Police Chief Shon Barnes said that the victim was walking in the area between West Wilson and Bedford streets around 3.20am on 3 September when she was ambushed by an attacker. A neighbour told WISN 12 News that the young woman was forced into an alley between two houses, where she was then assaulted.
A resident of the area who heard cries for help came outside to find the disturbing scene. A man standing next to the victim, who investigators believe was Mr Thompson, told the witness that he had "just found" her in that condition.
The suspect then fled the scene in his vehicle.
In radio traffic calls obtained by TMJ4, officers are heard describing the harrowing state in which the victim was found.
"Behind the house, a naked female covered in blood," a dispatcher is heard saying. "We're in contact with her. She's beaten up pretty good. She's not really conscious."
Wisconsin student attacked, sexually assaulted
The woman suffered a broken jaw and other life-threatening injuries. She was transported to the hospital and remains in critical condition.
In addition to her severe physical injuries, the victim also faces a challenging emotional recovery ahead, authorities said.
"Her life is forever changed," Assistant Chief Paige Valenta of the Madison Police Department said during a press conference on Wednesday. "Her family's life is forever changed. We will continue to work hard to ensure that Mr Thompson is held fully accountable in a court of law for the heinous act he perpetrated."
The investigation
Authorities have said that the attack appeared to be random.
"I think one of the most frightening things [is that it was a random attack]," Chief Barnes said. "...This case will not be complete until this cowardly attacker receives the justice he deserves."
Fellow University of Wisconsin students told WISN that officers knocked on their doors shortly after the attack asking if they had seen anything suspicious.
"The cops were knocking on our door at 4 in the morning. So, kind of scary," Azza Bayoudh told the outlet before Mr Thompson's arrest. "It was just kind of terrifying because I was like, that kind of could've been me."
Investigators were able to link Mr Thompson to the scene thanks to surveillance video submitted by residents of the area that captured Mr Thompson's licence plate. Footage also reportedly shows that he was walking right behind the victim before the attack unfolded.
Chief Barnes said that approximately two hours before the attack, Mr Thompson was pulled over by Fitchburg police officers over a registration violation.
The neighbouring police department provided bodycam from the traffic stop that allegedly showed Mr Thompson's clothing matched what he was wearing during the Madison attack.
"As a result of this video, detectives were able to read a licence plate that directly led to the identification of Brandon Thompson as the perpetrator of this assault," Ms Valenta said, thanking the community for their cooperation in gathering evidence.
DNA evidence has been collected from the scene and sent to a state crime lab. Authorities are awaiting the results but declined to say when they will be back.
The suspect
Mr Thompson is a local resident and appears to have no previous criminal history, police said.
He is waiting to be formally charged with first-degree sexual assault, first-degree reckless injury and strangulation.
The suspect's attorneys said in a statement to TMJ4 that he is a graduate of the University of Wisconsin at Milwaukee and has a degree in criminal justice and psychology. He reportedly works for a biotech company in Madison.
'He grew up in a military family, with his father serving in the Army until his retirement and later working at the Department of Veteran's Affairs,' the statement read, adding that the family asked for privacy.
Mr Thompson is booked into the Dane County Jail. An arraignment date was not immediately available.