Will Alex Murdaugh be granted a new trial? Legal expert weighs in
Exclusive: Prominent defence attorney Duncan Levin tells Rachel Sharp that the allegations against court clerk Rebecca Hill are 'extremely serious' and that – if true – Murdaugh could and should be granted a new trial
Wednesday 31 December 1969 19:00 EST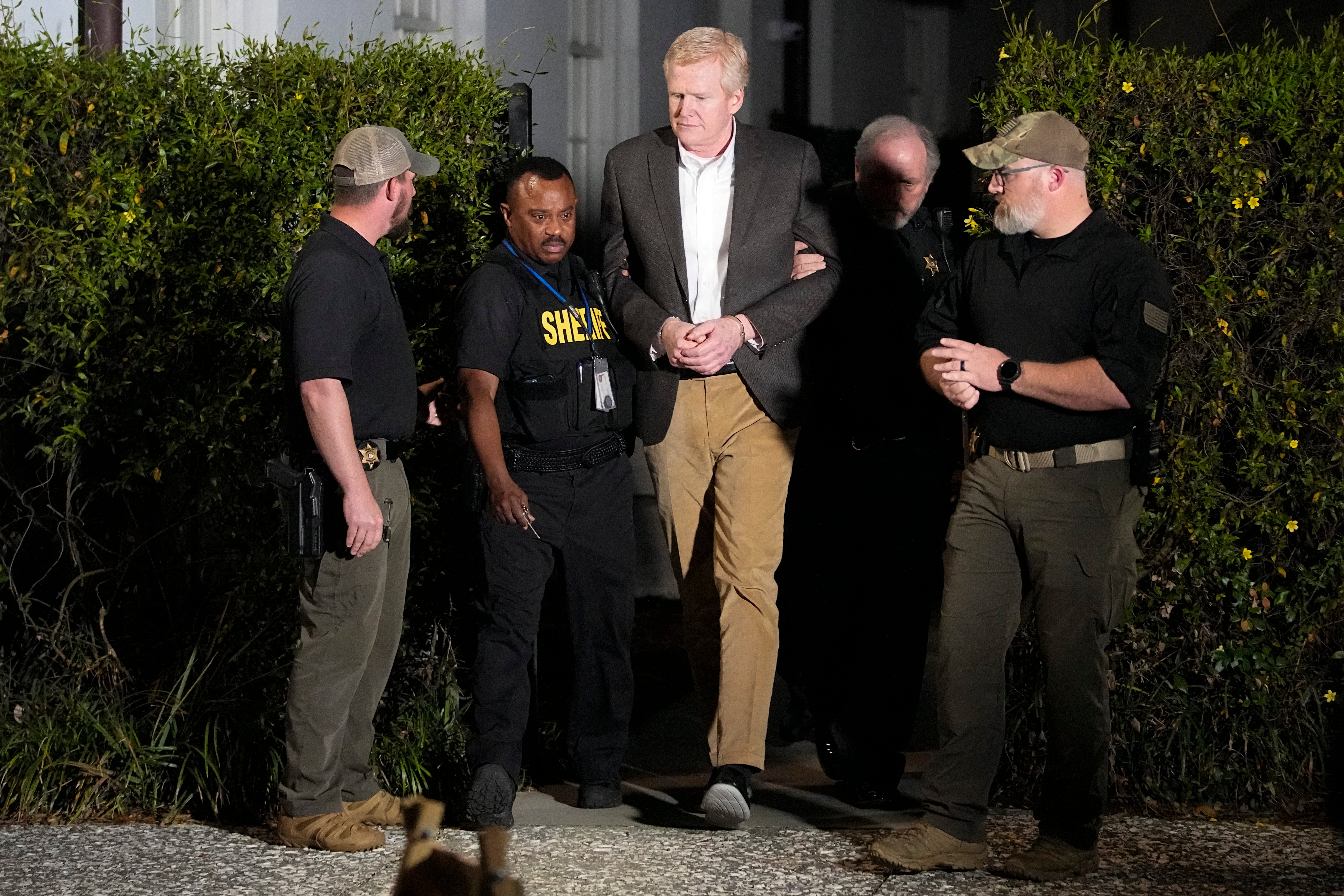 When Alex Murdaugh was convicted of the murders of his wife Maggie and son Paul back in March, his legal team insisted that the fight wasn't over.
Six months on, his attorneys Dick Harpootlian and Jim Griffin descended on the South Carolina court of appeals in Columbia and filed a motion calling for a new trial.
Motions for appeals or new trials are hardly uncommon in criminal cases.
But, the foundation for the request from Murdaugh's attorneys is.
In the bombshell 65-page filing, Murdaugh has accused Colleton County Clerk of Court Rebecca Hill of breaking her oath by allegedly tampering with the jury in the case, pressuring them into returning a guilty verdict against him.
He claims that she advised the panel not to be "fooled by" Murdaugh's testimony on the stand or "misled" by the defence's evidence, pushed them to reach a quick guilty verdict, and misrepresented "critical and material information to the trial judge in her campaign to remove a juror she believed to be favorable to the defense".
It's a series of bombshell accusations, supported by affidavits from some jurors, which has propelled Murdaugh and his notorious double murder trial back into the spotlight once again.
So just how serious are these allegations?
And will this now pave the way for Murdaugh – a man convicted of killing his wife and son in cold blood, a man facing another 700 years behind bars on 100 financial fraud charges and a man embroiled in a sprawling saga of mystery deaths – to be granted a new trial?
Prominent attorney Duncan Levin told The Independent that the claims laid out in the court documents are "extremely serious" and, if true, Murdaugh could – and should – be granted a new trial.
"The allegations in the complaint are extremely serious," he said.
"The complaint asserts that an elected state official, the Clerk of Court Rebecca Hill, engaged in deliberate misconduct by tampering with the jury during Mr Murdaugh's trial for the murder of his wife and son."
Mr Levin – the former assistant district attorney in the Manhattan DA's office and prominent criminal defence attorney at Levin & Associates who has represented clients including Harvey Weinstein and Anna Delvey – explained that the accusations could amount to a violation of Murdaugh's rights.
"If proven true, these allegations not only undermine the integrity of the judicial process but also represent a significant violation of Murdaugh's constitutional right to a fair trial," he said.
Now that the motion has been filed, he said that an evidentiary hearing is likely to take place where the evidence for the accusations will be laid out.
If the allegations are proven to be true, Mr Levin said that Murdaugh should then "unquestionably" be granted his request for a new trial.
"The actions described, particularly those of a court official who is entrusted with upholding the principles of justice and impartiality, fundamentally undermine the fairness of the trial and the credibility of the verdict," he said.
"Tampering with the jury, pressuring them, and interfering with their deliberations are actions that directly violate the defendant's right to a fair and unbiased jury trial.
"In such cases, the law typically requires the granting of a new trial to ensure that justice is served without the taint of undue influence or misconduct."
Alex Murdaugh's attorneys demand new trial over allegations of jury tampering
He added: "These actions, if substantiated, could lead to severe consequences for those involved."
Ms Hill is yet to respond to the bombshell accusations levelled against her and is presumed innocent.The Independent has reached out to her for comment.
But, Murdaugh's attorneys have suggested that some members of the jury could also find themselves in legal hot water.
Speaking on Good Morning America on Wednesday morning, Mr Harpootlian suggested that jurors should also be seeking legal counsel.
Mr Levin said that it is possible jurors could potentially face legal consequences if the accusations extend to their own misconduct.
"If there is evidence or concerns of juror misconduct, such as receiving outside information, discussing the case prematurely, or being influenced by external factors, jurors could potentially face legal consequences or be called upon to testify about their actions during the trial," he said.
South Carolina Attorney General Alan Wilson has so far only released a brief statement on the motion, saying only that "we are currently reviewing the defense's latest motion and will respond through the legal process at the appropriate time".
Murdaugh's attorneys allege that Ms Hill was driven by fame and a desire to secure a book deal when she allegedly pressured the jurors to quickly return a unanimous guilty verdict against him.
When Murdaugh took the stand, the motion claims Ms Hill instructed the jury to "watch him closely," to "look at his actions," and to "look at his movements" on the stand – something at least one juror said they understood to mean that Murdaugh was guilty.
When the defence presented evidence, they were allegedly urged not "to be fooled".
The motion also claims that Ms Hill had frequent private conversations with the jury foreperson and repeatedly asked jurors for their opinions about Murdaugh's guilt or innocence.
One of the most damning accusations centres around the dismissal of juror number 785 just hours before jury deliberations began.
According to Murdaugh's attorneys, Ms Hill "invented a story about a Facebook post to remove a juror she believed might not vote guilty".
Judge Clifton Newman removed the female juror from the panel for allegedly discussing the case with at least three other people outside of the court. The woman then prompted some light-hearted – and widely-reported – relief when she asked to pick up her "dozen eggs" from the jury room before she left.
According to the motion, Ms Hill had gone to Judge Newman on 27 February – the day after Murdaugh testified – claiming that she had seen a post in local Facebook group "Walterboro Word of Mouth" from juror 785's former husband Tim Stone.
The post purportedly claimed that the juror was drinking with her ex-husband and, when she became drunk, she expressed her views on whether Murdaugh was innocent or guilty.
A follow-up post from an account called Timothy Stone apologised for the post saying that he was driven by "Satan".
Murdaugh's attorneys claim that the posts were either fabricated or not written by Mr Stone.
Maggie and Paul were found shot dead on the family's 1,700-acre Moselle estate back on 7 June 2021. Alex Murdaugh had called 911 claiming to have found their bodies.
During his high-profile murder trial, jurors heard how Paul was shot twice with a 12-gauge shotgun while he stood in the feed room of the dog kennels on the affluent family's 1,700-acre Moselle estate. The second shot to his head blew his brain almost entirely out of his skull.
After killing Paul, prosecutors said Murdaugh then grabbed a .300 Blackout semiautomatic rifle and opened fire on Maggie as she tried to flee from her husband.
During the dramatic six-week trial, Murdaugh confessed to lying about his alibi on the night of the murders but continued to claim his innocence of the killings.
The jury didn't agree and the disgraced legal scion was convicted in March of the brutal murders.
Beyond the murder charges, Murdaugh, 55, is also facing a slew of financial fraud charges for stealing millions of dollars from his law firm clients and his dead housekeeper's family.
He is expected to plead guilty on 21 September to federal charges – marking the first time he has pleaded guilty to a crime in court.
Murdaugh is also facing around 100 financial charges in state court as well as charges over a botched hitman plot where he claims he paid an accomplice to shoot him dead.
Murdaugh's high-profile conviction also shone a spotlight on some other mystery deaths tied to the South Carolina legal dynasty.
Following Maggie and Paul's murders, investigations were reopened into the 2018 death of the Murdaugh's longtime housekeeper Gloria Satterfield and the 2015 homicide of gay teenager Stephen Smith.
Meanwhile, at the time of his murder, Paul was also awaiting trial for the 2019 boat crash death of Mallory Beach.