Alex Murdaugh's trial begins soon. His lawyers say it's impossible to find impartial jurors
Pretrial questionnaires from a potential jury pool revealed they had extensive knowledge of the Alex Murdaugh case and that they could not be impartial in their decision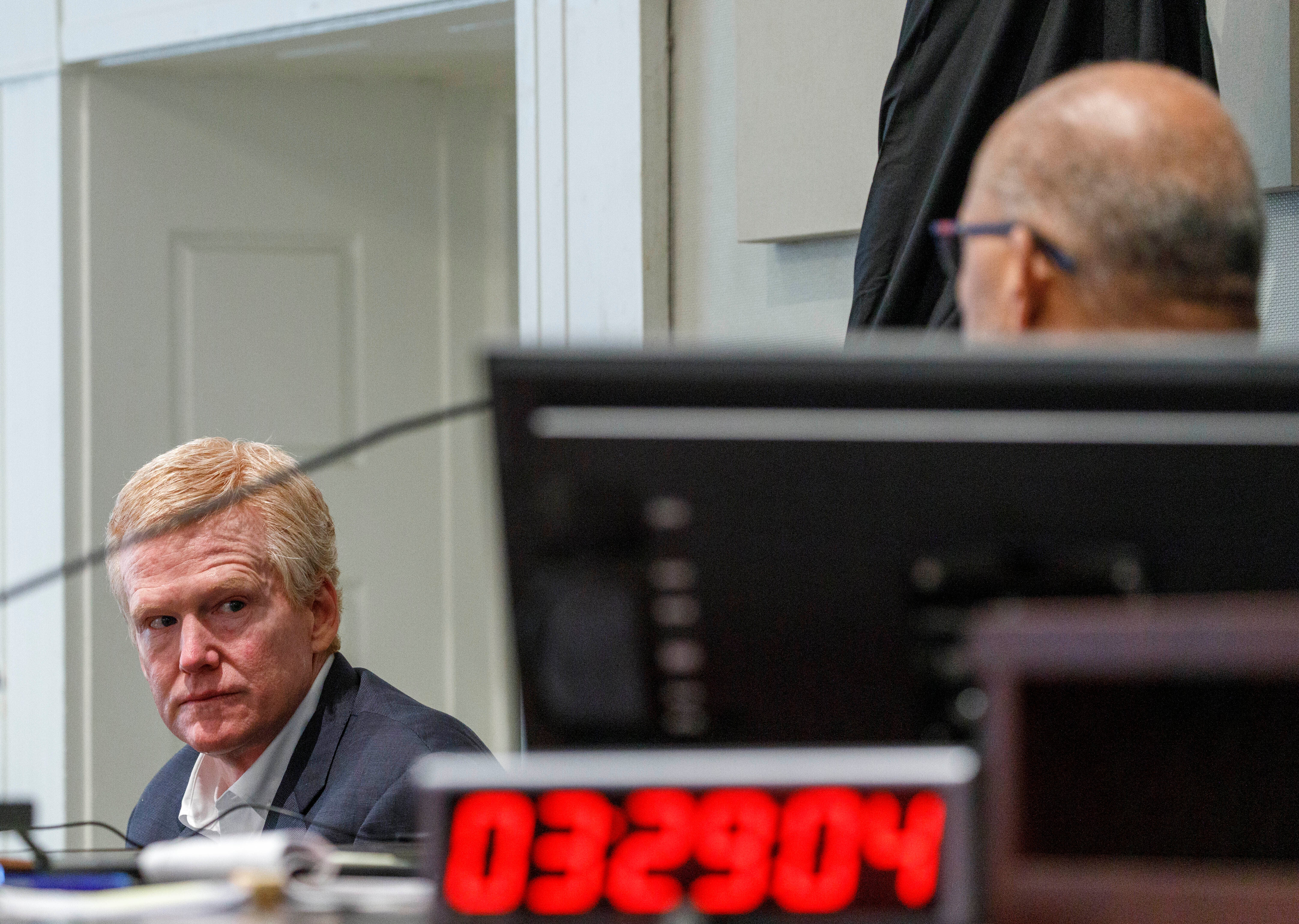 Disgraced South Carolina attorney Alex Murdaugh is set to stand trial on alleged financial crimes at the end of the month, but his defence team says it's impossible to find 12 jurors in Beaufort County impartial to his case.
A recent court filing revealed that 90 per cent of a potential jury pool had returned pretrial questionnaires which stated they had extensive knowledge of the case in which the former lawyer was convicted earlier this year of killing his wife and son and shared strong opinions on him.
"My mind is made up on this case, guilty! What that family did is disgraceful," one prospective juror wrote, according to court documents viewed by The Independent. "I wish I had a white privilege card!"
Another wrote: "If you want an unbiased, I'm not your juror! My mind is made up on this case."
"I believe he is guilty of killing his wife & son — if that counts..." wrote another.
One prospective juror wrote on their questionnaire that they had read and viewed numerous accounts about Murdaugh and had one place they believed he should be: in prison.
"While I am not a gossip junkie I believe he has committed despicable acts on his family, employees and associates. He is malicious and unforgivable. He should rot in prison," they wrote.
Murdaugh was convicted earlier this year in the June 2021 murders of his wife Maggie and son Paul, who were both gunned down on the family's Moselle property in South Carolina.
Murdaugh, once synonymous with power in Hampton County, South Carolina, is now a household name after his heinous murders became the forefront of media attention, spurring several documentaries, including one on Netflix, "Saturday Night Live" skits and fictionalized movies about the dynasty's downfall.
On 27 November, Murdaugh is set to face about 100 financial crime charges, including those related to an insurance scheme he allegedly orchestrated that involved the estate of his late housekeeper Gloria Satterfield.
On 9 November, Murdaugh's attorneys, Dick Harpootlian and Jim Griffin, filed a motion to delay his upcoming trial on alleged financial crimes, arguing that there would not be an impartial jury pool to choose from.
Murdaugh's attorneys cited responses from 147 potential jurors who had been asked to fill out a questionnaire about the case. Almost 90 per cent have said they know about the case, the attorneys say.
"There are perhaps counties located in the Upstate whose citizens have not followed the coverage of (Murdaugh) as closely as the citizens in the Low Country," Murdaugh's attorneys wrote. "However, this is very doubtful in the present media climate."
True crime fan Stephanie Cannon, of Alabama, who has followed the saga from the beginning told The Independent that she will be keeping up with the updates from the financial crimes trial and agreed with the defense attorneys' complaints.
"They are definitely going to have a hard time finding an impartial jury and/or ANYONE that isn't somewhat familiar with the case," she said.
Murdaugh, 55, has already pleaded guilty to federal charges related to the scheme and has admitted to stealing the money in court papers and testimony from the witness stand during his trial earlier this year. But his state charges are still pending.
In the motion, his attorneys wrote that a jury shouldn't hear any of the facts in the state case until at least a year has passed since the end of his murder trial in March. They point to the responses from the juror questionnaire as arguments to delaying the trial.
Murdaugh's defence attorneys first filed the motion for a new trial in September based on a claim that Colleton County Clerk of Court Rebecca Hill tampered with the jury that handed down a guilty verdict to Murdaugh.
They allege that three jurors say Ms Hill told them not to trust Murdaugh when he testified in the case in his own defence. Murdaugh's attorneys say that the judge may know of the clerk's conduct.
Judge Clifton Newman, who presided over Murdaugh's double murder trial earlier this year, excused himself from any potential appeals of the murder cases, but will still preside over Murdaugh's financial crimes trial.
It is set to begin on 27 November in Beaufort County.