A body in a suitcase, Bonnie and Clyde fantasy and baby born in Bali prison: The chilling case of Heather Mack
As Chicago woman Heather Mack pleads guilty over the killing of her socialite mother Sheila von Weise-Mack at a 5-star Bali resort in 2014, America remains horrified by the case involving a Bonnie and Clyde fantasy, a body stuffed in a suitcase and a baby born behind bars. Rachel Sharp reports
Monday 19 June 2023 07:14 EDT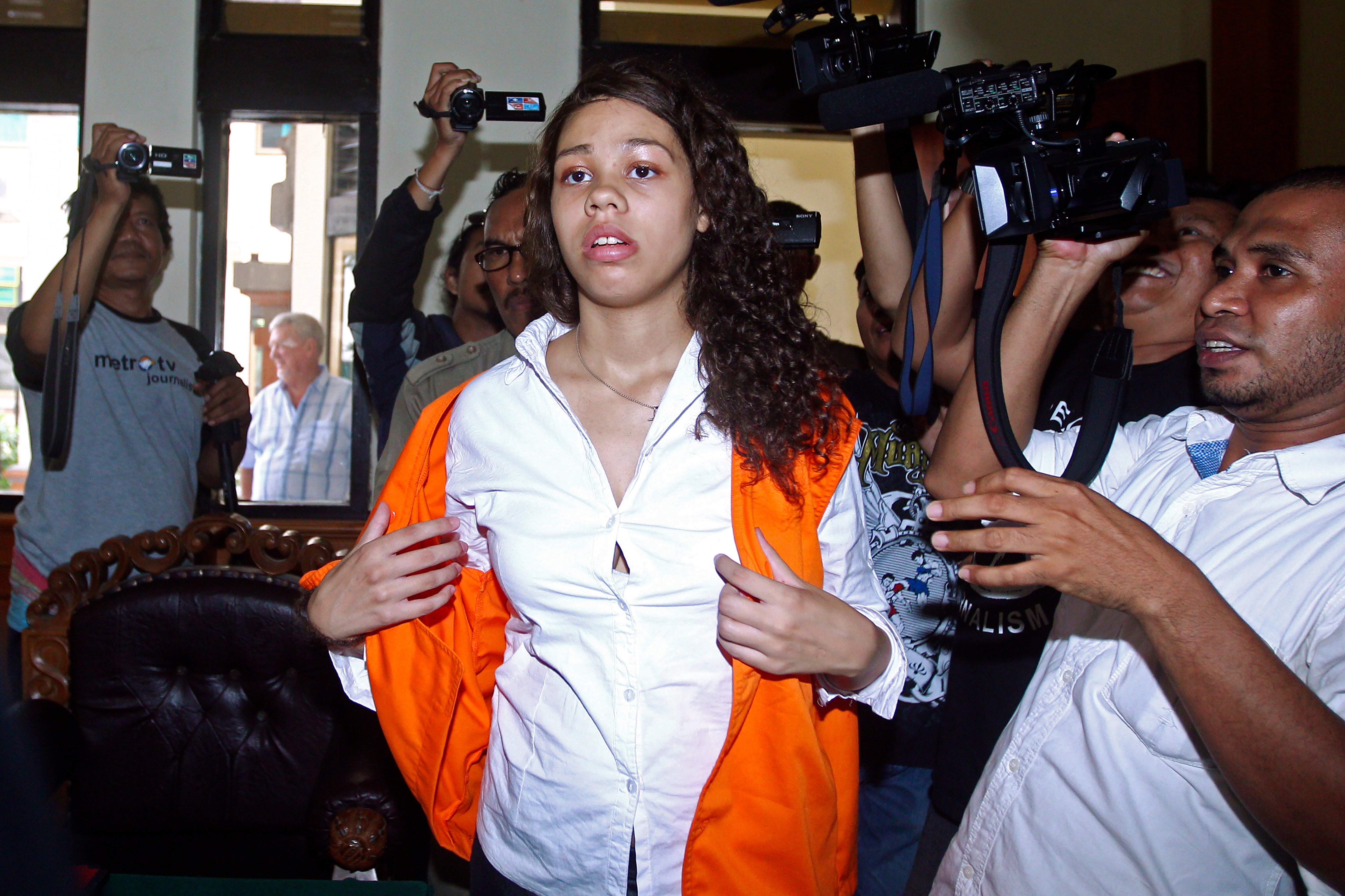 It's a chilling case that has spanned two different continents and rumbled on for the best part of eight years.
Now finally, some sort of conclusion has been reached as Chicago woman Heather Mack pleaded guilty in US court to her part in her mother's heinous 2014 murder.
Infamously dubbed the "Suitcase killer", Mack, then 18 and pregnant, and her boyfriend Tommy Schaefer, then 21, bludgeoned her socialite mother Sheila von Weise-Mack, 62, to death and stuffed her body in a suitcase while on vacation at a luxury 5-star resort in Bali.
After serving seven years in an Indonesian jail for murder, Mack was extradited to the US where she was arrested on arrival and hit with fresh charges of conspiracy to murder in November 2021.
After years of fighting for her freedom – and blaming her mother for her own senseless killing – Mack, now 27, pleaded guilty in federal court in Illinois on Friday morning to one count of conspiracy to kill a US national.
"I plead guilty, your honor," she told US District Judge Matthew Kelley.
Under the terms of the agreement, prosecutors recommend she faces a maximum sentence of 28 years in prison, with consideration given to the time she's already served in Indonesian prison.
However, Judge Kelley warned that he could ignore the sentencing guidelines.
"I have to make up my own mind," he said. A sentencing date was set for 18 December.
Speaking to The New York Post last week, Mack said – despite plans to change her plea – she believed she had served her time in Indonesian prison and didn't think she should be facing charges in the US.
"I have served nearly 10 years in prison. I felt that I had done my time, so I was gung-ho for trial," she said.
"Now, after sitting for so long, I know what I have to do. I'm going to be a felon in America, and that is fine. I understand from [the US government's] perspective that, if I don't plead guilty and they didn't indict me, I wouldn't be a felon."
She added: "I could become a police officer and work for the government… I could carry a firearm on the street."
As Mack looks towards her future beyond her mother's shocking murder, it's still very much a case that shocks and horrifies America – a case involving a Bonnie and Clyde fantasy, a mother's body stuffed in a suitcase and a baby born behind bars.
A deadly vacation
It was August 2014 when wealthy socialite von Wiese-Mack took her troubled 18-year-old daughter on vacation to the 5-star St. Regis hotel in Bali.
Mack was the daughter of socialite von Wiese-Mack and famed musician James L Mack and had a privileged upbringing in the Oak Park suburb of Chicago.
But, following Mack's 2006 death, von Wiese-Mack called the police to their home dozens of times due to incidents of domestic violence.
Oak Park Police records reveal at least 35 interactions with officers since 2008 including accusations that Mack broke her mother's arm, bit and punched her.
In 2013 – just over one year before her murder – von Wiese-Mack confided in a detective that she feared Mack was going to kill her.
But friends later said, despite being fearful of what her daughter might do, she decided to take her on holiday with her in the summer of 2014.
After they arrived at the luxury resort, Mack used her mother's credit card to buy a $12,000 business-class ticket for Schaefer to join them and a single night's stay at the hotel.
In the early hours of the morning on 12 August 2014 – hours after Schaefer arrived – Mack, von Wiese-Mack and Schaefer were captured on hotel surveillance footage arguing in the lobby of the hotel.
Sometime after that, Schaefer bludgeoned von Wiese-Mack to death with the metal handle of a fruit stand.
Schaefer and Mack then stuffed her body into a suitcase and wheeled it down into the hotel lobby.
They hailed a taxi, loaded the suitcase into the trunk of the car and tried to check out of the luxury resort.
But, because von Weise-Mack had told the hotel not to let her daughter use her credit card, they were prevented from doing so and fled the scene.
The taxi driver – suspicious of the bloodied suitcase wrapped in hotel sheets – called the police who made the grim discovery of what was inside.
The couple was soon tracked down to a budget motel and arrested on suspicion of murder.
Bonnie and Clyde
Before carrying out the brutal murder, the young lovers exchanged messages describing themselves as the notorious criminal duo Bonnie and Clyde and in which prosecutors say show how they plotted and conspired to kill their 62-year-old victim.
In the messages, revealed in US federal court documents earlier this year, the couple plotted methods of murder, egged each other on and spoke about how "rich" they would be when Mack inherited her mother's wealth after she was dead.
On the day that Mack and her mother von Wiese-Mack set off on their trip, Schaefer allegedly sent his girlfriend a text saying: "I can't wait to be rich… Its crazy af Like Money Nothing rules the world."
The next day, Mack replied telling him the "trips going as planned baby … faith".
When Schaefer told her he had "a lot of faith" in her but "that a lot of things aren't in her control", Mack replied with chilling messages describing how she had been "watching" her "witch" mother.
Referring to herself as "bonnie" of Bonnie and Clyde, she urged her boyfriend not to "underestimate me".
"I also know what is in my control … I know what makes people tick … the witch … I know what make [sic] her tick … I'm with her so much … I know her habbit [sic]… how she acts … what she does at certain times … its like breaking out of jail … It takes several years of watching … I have been watching her routine … and I know what I do control … Im sneaky … Im smart … and I watch … trust bonnie … Dn't make everyone else mistake and under estimate me," she wrote, per the court documents.
Other text messages revealed Schaefer encouraging Mack to smother her mother to death.
Facing firing squad in Indonesia
Following their arrests, Schaefer and Mack's stories changed several times.
Initially, they allegedly told Indonesian investigators that von Wiese-Mack was killed by robbers.
Then, Indonesian police said Schaefer confessed to murdering von Wiese-Mack and Mack confessed to helping shove her mother's body in the suitcase – before Mack later denied the allegations.
Schaefer later testified at trial that he killed the 62-year-old because she attacked him when she found out her daughter was pregnant. Meanwhile, Mack was allegedly motivated by a desire to be free from her controlling mother.
Mack and Schaefer were both charged with premeditated murder and faced the death penalty by firing squad.
While Schaefer ultimately pleaded guilty, Mack did not.
In March 2015, in the middle of her trial, Mack gave birth to the couple's daughter Stella (who she raised in prison for the first two years of her life when she was placed in the care of an Australian woman living in Indonesia who Mack had befriended behind bars).
Both Mack and Schaefer were convicted of premeditated murder and – after prosecutors asked for the death penalty be taken off the table – Mack was sentenced to 10 years in prison while Schaefer was sentenced to 18 years in April 2015.
In 2017, Schaefer's cousin Ryan Bibbs, then 24, was also convicted of conspiracy to kill von Wiese-Mack and sentenced to nine years in prison after it emerged that he had coached the two killers in different murder methods.
Mack's story would change again when she appeared to confess that she alone murdered her mother in a YouTube video from prison. Her lawyers later walked back the video saying Schaefer coerced her to say it.
Return to America
Mack was released from prison in Bali in October 2021 after serving seven years – three years early due to good behaviour – and was briefly reunited with Stella, then six, who she planned to begin a new life with.
But her newfound freedom was short-lived.
Five days later, the then 26-year-old was deported from the Indonesian island back to the US and was arrested as soon as she touched down on American soil.
Photos captured the convicted killer and her young daughter as she was greeted by waiting FBI agents at the gate at Chicago's O'Hare International Airport and was immediately taken into US federal custody.
She was indicted on two counts of conspiring to commit murder in a foreign country and one count of obstruction of justice. The indictment, which was filed in 2017 but remained sealed while she remained in Indonesian prison, also charged Schaefer with the same counts.
A custody battle then ensued over the care of little Stella.
She was initially placed in the care of Chicago attorney Vanessa Favia while several relatives and friends battled in the courts for guardianship of her. In November, Stella was then placed in the care of Von Weise-Mack's niece Lisa Hellman in Colorado – against Mack's wishes.
In the more than two years since Mack has been behind bars in the US, she has fought against the charges, arguing that she paid for her crime during her prison time in Bali.
The case was set to go to trial on 1 August in Chicago before Mack reached the plea deal with federal prosecutors in Illinois.
She will be sentenced on 18 December.
Schaefer meanwhile is still serving his 18-year sentence in Indonesia before he too will face charges on US soil.